Dear Sarah,
KITTENS!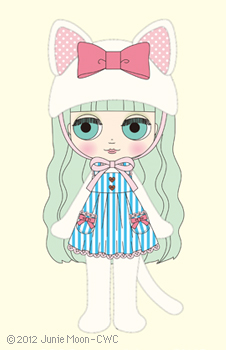 The first Middle of 2012 is up and she is the cutest little kitten Blythe,
Melo Melo Mew!!
Her basic information:
Hair style: Long with bangs and loose curls
Eye color: Cool mint green
Price: 10,290 yen (129 USD; 84 GBP)
She's quite a good comparison to
what we got back in May
:
And here's a better picture:
I'm hoping to get her since I'll be graduating (!!!) in August! (
"Hey parents....!"
) And hopefully she'll be my first Middie, too!
Do you think you'll get one? Kitten Twins!
♥ Jillie
P.S.
HERE'S
the link to her BlytheKingdom thread.