Dear Sarah,
I loved seeing the pictures from BCUK! I really really wish I had been able to go. :( Next year. Actually, next year we'll go to both, Glasgow and New York City, and have stands at both. And hopefully take some of these new dolls that are coming out, because I have final designs
and a new girl for you to check out!
Here to tempt you even further, final photographs of Ayanami Rei meets Blythe!
CWC tried to stay very close to the anime to present Ayanami Rei in time for the third installment of the Evangelion film series.
For a non Evangelion fan she's quite adorable, and I love that little suit. The head set still looks like cat ears, but I've never seen the anime.
FOUR special eye chip colors!
Love these lashes, and her natural makeup.
CWC seems to have taken a lot of care to get her details right. I hope she pleases Evangelion and Ayanami Rei fans.
Next is Parson Grace, the Middie with earmuffs!
Except that shawl makes her look a little Little House on the Prairie-ish.
I really like this girl more than Vinter Arden. VA was kinda boring, but I think the pinkish brown hair and delicate theme works on a Middie. They seem more delicate anyways. Plus, they upped her makeup so I think that helps. Her cheeks look like she just stepped in from a winter walk!
Her stole is blue green, and earmuffs are blue. Her accessories are in soft colors those match her one-piece really well. She wears grey socks with special long boots.
Her face color is cream. Her hair is champagne brown with a center parted and soft body wave. Her make up, and coloring all matches "Vinter Arden" to make her the perfect little sister. She has green eyeshadow, salmon pink cheeks and lips, ice blue eye color.
To make her looks more special, her make up is a little bit stronger than the Neo Blythe version.
Skin Type: cream (fair)
Make Up: eyeshadow- green, lips- salmon pink, cheeks- salmon pink
Eye Color: ice blue
Hair Color: Champagne brown
The set includes: doll, one-piece dress, stole, boots, shorts, and doll stand.
Release date: November 23, 2012
Retail price: 10,290 yen ($129; £81)
Preorder will begin from November 16th on the
Junie Moon international online shopping site.
I really like her stock clothes as well. If I were to eventually get another Middie in the future, it'd be this girl.
The first of the new twins of the Simply line. I can't remember, Sarah, is this the twin I'm getting or you're getting? :p
She has red wedge boots! I want her just for that, actually.
I really like the asymmetry of these two girls. I really want her stock, but I find the doll herself to be boring. I think it's the uncustomized RBL mold.
Booring eyes. She might be a good blank platform for customs.
Stock NEED.
Yes, I realize there's two release dates. I'll keep you updated.
University of Love, or The Girl with the Stock Clothes EVERYONE Wants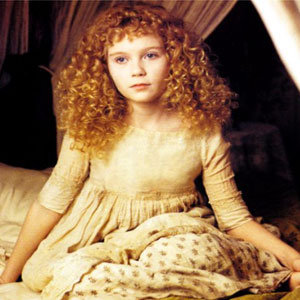 Movie fact: Kristen Dunst's first onscreen kiss, with BRAD PITT.
But her hair really doesn't seem curly enough. I think Margo Unique Girl would be a better choice, especially since she's translucent and that would be a better choice for a vampire.
But I digress, back to University of Love:
Green eyeshadow and orange cheeks, are they trying to make her look like she has influenza? This is another girl who's stock I really want, but I'm not too thrilled with the doll. I do like that they've added wavy blonde hair, it doesn't seem to be very common.
Special chippies! Green of course, because she's the living persona of Envy.
Ooo, silky undies, fancy.
Such as this.
Or this, why could explain why she has the genes for purple hair.
And you really know her hair looks like this. It can't be unseen.
If you've gotten here, praise you! This has been quite a long post, 5 girls in all, but I hope I helped spread the word about Christmas presents! ;]
Next post: the girls model the goodies you sent me from BCUK!