Hello! Seems like a missed a bit since the last post, and quite a bit in general since I left Blythe. But I'm happy to be back and get on with this blog and talk about new releases and other Blythe-y things.
I missed the release but am very happy to see Mandy Cotton Candy and Yellow Marshmallow!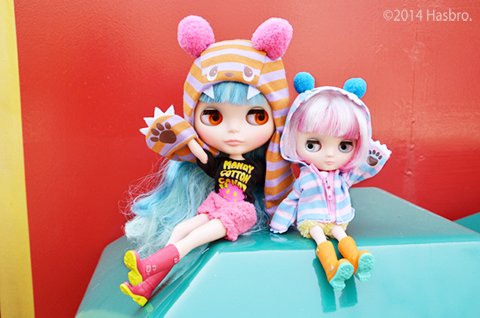 "Let's eat junk food, go on the roller-coaster, throw up, then eat more!"
I like the way Takara has recently began creating a Neo and Middie to go together, emphasizing the story that Middie is Neo's little sister. (We had Lorshek Molseh and Lydia Green, and we'll have two dolls for the 13th anniversary.)
I'm excited for fantasy hair, especially two-toned fantasy hair! I wonder if Mandy's 'mint green' hair is easier to see in real life, as I can barely tell here. The hoods are great (yet another time when Takara should just sell stock) and I love those fluffy bloomers, but they're a one piece with the t-shirt. Looks like there's no bloomers for the OPH Gang.
The upcoming release for May is Ashley Secrets.
*yawn*
She's nothing too special; not much to talk about. A blonde with a perm, and a wardrobe that reminds me of Simply Love Me. In fact, they not only have similar hair styles they're doing the same pose:
Sister?
I am really glad she doesn't have the brassy, neon, highlighter yellow hair of Hi! Ho! Marine! Just noticing in these two pictures, there's a big difference between moulds. I've never been able to tell until now, but Simply Love Me has a more Kenner-esque, sweet face with the rosy cheeks. It may just be the picture.
Anyway, I digress. What is Ashley's Secret? Does she have lacy knickers? Is she a spy, and Lorshek Morleh's Moriarty? Is she actually made from the melted down pieces of dolls she found unworthy?!
Everyone has a special secret.
Ashley is just the girl to tell your secrets.
She'll keep it private and give you good advice.
She is so very trust worthy, but very sweet.
Oh. Well...that's not too... Ok, next.
Ashley's fashion is girly and chic.
Her one piece dress is made of silver lame, and is accented with black satin ribbons.
The high, empire waist is flattering on Blythe'S frame.
Her sharp jacket is printed with a clean silver accent.
She has dark grey, knee high socks that look great with her black boots.
She has long permed hair, parted at the side.
She has a thick black headband to tie it all back. Her hair color is a warm yellow.
She wears dark brown eyeshadow, and pink cheeks and lips.
She has special light blue, front facing eyecups.
She has Radiance + face type with fair skin.
I will admit, I do like her dress. And here with her special eyecups she looks quite cute, but she doesn't have that "buy me!" factor, I look for. And the RBL+ face mould, comparing her to Simply Love Me, she looks really different. She looks more like a TBL than a Kenner. (I've never seen a Kenner in person, but I was looking at my TBL a few minutes ago.)
Either way, I'm excited to see what people do to her. Err...how they customise her.
Happy Blytheing!